IGNOU TS 1 Solved Assignment 2019
IGNOU TS 1 Solved Assignment – This is IGNOU BA Tourism Studies 1st Year Solved Assignment. Right now, students are looking for BTS TS 1 solved assignment for Year 2019.
Related Post:
The TS 1 assignment question booklet is prepared and provided by School of Tourism and Hospitality Services Management Indira Gandhi National Open University Maidan Garhi, New Delhi – 110 068.
Students can download IGNOU TS 1 assignment 2019 questions PDF online free of cost. It is available in the form of BTS 1st Year assignment question booklet.
| | |
| --- | --- |
| Programme Name | Bachelor of Tourism Studies (BTS) |
| Course Code | TS-1 |
| Course Name | Foundation Course in Tourism |
| Assignment Code | TS-1/TMA/2019 |
| Total Marks | 100 |
How to download IGNOU TS 1 Solved Assignment ?
Here, We have provided the link to download reference material for TS 1 solved assignment 2019. Students may require to pay small amount of service charges for it.
We always encourage students to solve TS 1 assignment by themselves. However, they can use this solved assignment of Foundation course in Tourism studies (TS-1) as reference material to write answers.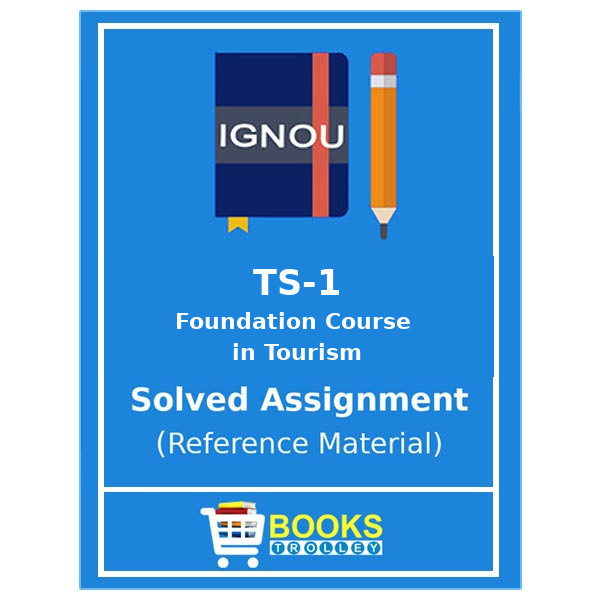 Note: Students can also contact us on WhatsApp at 7428482160 for BTS solved assignments
IGNOU TS 1 Assignment Question 2019
There ate total of ten questions in TS-1 Tutor Marked Assignment (TMA) booklet. Students have to attempt any five out of ten. Each question carries 20 marks.
The answer should be written in about 600 words each. Students have to send their TS 1 solved assignment to the coordinator of their Study Centre concerned.
Below, we have provided link to download IGNOU TS 1 assignment question paper booklet PDF soft copy. So, just click on the link below to download it:
Last date of IGNOU TS 1 Assignment Submission
We have provided below the assignment submission schedule for students who take admission in 2019 January and July session.
Programme Name
Bachelor of Tourism Studies (BTS)
Course Code
TS-1
Course Name
Foundation Course in Tourism
Last Date for
January 2019 Session
April 15, 2019
Last Date for
July 2019 Session
October 15, 2019
Subscribe us for more latest updated solved assignments of Bachelor of Tourism Studies.
Related Post: