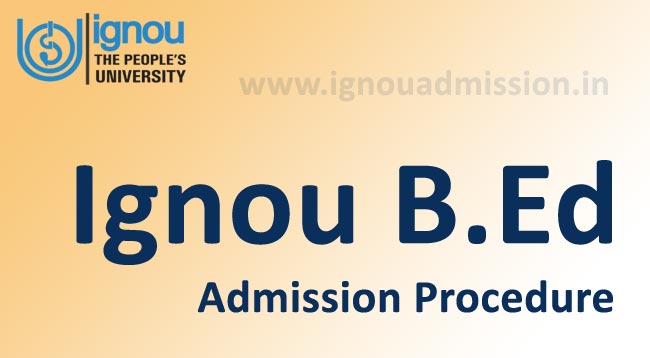 IGNOU B.Ed Admission 2019
The Indira Gandhi National Open University has been inviting application from learners all over the country Ignou B.Ed admission January 2019. The University offers the Bachelor of Education programme for the learners to get innovative in teaching process.
Note: The last date to apply for IGNOU B.Ed entrance test has been extended to 18th November 2018

Related Post:
The B.Ed programme is essentially an accurate mixture of theoretical and practical courses to build up in practicing teacher's appropriate understanding, abilities, understanding and attitudes. It is recognized by the NCTE and is offered in NCTE approved Training Colleges in the country.
To know more about the distance B.Ed learning, you can visit the nearest Ignou Regional Centre. Also you can visit the university official website at www.ignou.ac.in.
The candidates who are interested to join this programme should obtain Ignou B.Ed prospectus 2019 from their nearest Regional Centres of Ignou personally by visiting there. They have to pay the prospectus fee of Rs.1000/- in cash at sales counters.
The candidates can also order the prospectus by sending a Demand Draft(DD) of Rs.1050/- in favour of Ignou, payable at city of concerned Regional Centre.
Another way of obtaining IGNOU B.Ed prospectus is to download it from the university website in the form of soft copy.
Last date to apply for entrance test: 18th November 2018
Date of B.Ed Entrance test:  December 2018
IGNOU B.Ed. Admission Procedure
The admission is totally based on B.Ed Entrance Test conducted by the university all over India usually in the month of August or September or October.
To apply for admission, the candidates have to fill up entrance test cum application form online at university website at www.ignou.ac.in.
The last date for the submission of application form can be checked from the admission notification or advertisement. It is advised to learners to visit the "Latest announcements" section on university official website for advertisement.
IGNOU B.Ed Programme Detail
The more details about the B.Ed discipline has been mentioned below:
Medium of instruction: English and Hindi both
Eligibility Criteria:
A Bachelor's or higher degree from a recognised university, and
Two years full-time regular teaching experience on temporary/permanent basis as Primary/Graduate/Post-Graduate Teachers in Primary, Secondary/Higher/Senior secondary school recognised by the central or a state government or a union territory are eligible to take admission.
Programme Duration: The university provides the minimum duration of 2 Years and maximum duration of 4 Years to complete the Bachelor of Education programme.
Fee Structure: Rs. 50,000/- (Note : Please Contact Regional Centre for latest Course Fee details.Course Fee may vary with the fee mentioned on this website.)
Age Requirement: There is no bar on minimum and maximum age.
Don't forget to subscribe to us for latest Ignou updates and also you can share this post on social networking sites as well.