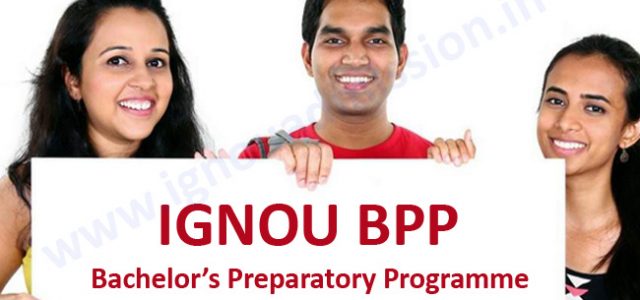 IGNOU BPP Admission 2019
The Indira Gandhi National Open University offers admission to it's Bachelor's Preparatory Programme (BPP) programme. The students applying for IGNOU BPP admission in any of January or July academic cycle has to pass out the total of credits to complete the programme. It is one of the important disciplines offered by Open distance learning university.
For IGNOU BPP Solved Assignment 2019, Students can contact us on WhatsApp at 7428482160
The IGNOU BPP Programme has designed and developed for those people or individuals who would like to do Bachelor's Degree from IGNOU but don't possess the required eligibility passed 10+2 and achieved the age 18 years/as on first April and first October for the month of January & this summer session respectively. Without the 12th passed qualification,these students are missing out an opportunity to do higher education.
To Let these students pursue their higher education, the university has designed this Bachelor's Preparatory Programme (BPP). After successfully completing the programme successfully by students, they are eligible to apply for admission to other IGNOU courses such as BA/ B.Com. etc.
Related Posts
IGNOU BPP Programme Details
The IGNOU BPP admission 2019 eligibility and other details has beem mentioned below:
Admission Cycle
The admission in IGNOU BPP programme is offered in both January & July cycle.The candidates can apply for admission online in any of these sessions.
Medium of instruction
At present, the Indira Gandhi National Open University is offering this programme in following languages: Oriya, English, Hindi, Tamil, Bengali, Marathi, Telugu, Malayalam, Gujarati medium. Students can select language of their choice to study this programme.
Admission Eligibility
To apply for IGNOU BPP admission, the candidates do not need to posses any formal qualification. However, the minimum age of eligibility is 18 years.There is no maximum age limit.
Programme Duration
The minimum  duration to complete the discipline is 6 months and the students are flexible to complete it in a maximum duration of 2 Years
IGNOU BPP Admission Fees
The total fee to study Bachelor's Preparatory Programme is Rs. 1,000/- (Note : Please Contact Regional Centre for latest course fee detail, The IGNOU BPP admission fees 2019 may vary with the fee mentioned on this website.)
IGNOU BPP Admission Procedure
The learners who wish to apply for IGNOU BPP admission 2019 can apply for admission only by filling up application form online. Earlier, the admission was offered by offline method of admission. The offline method of admission is no more available now.
IGNOU BPP Online Admission 2019
For student's convenience, the Indira Gandhi National Open University has updated its admission system to include online admission process in it. Now, the students can directly visit the university official website to apply for IGNOU online admission.The learners can download the Student Handbook & Prospectus from the official website.
Before applying for admission, we advise students to read out prospectus carefully and know about the programme you are going to apply for. They have to register themselves on IGNOU online admission portal before filling up the application form. The candidates who choose online admission procedure has to upload their photograph, signature and required documents at admission portal under their user account after getting logged in.
IGNOU BPP Admission (Offline)
Note: This method of admission is not available any more.
In this method of admission, the students has to visit their nearest IGNOU Regional Centre and obtain the printed copy of prospectus. To obtain IGNOU Prospectus, the applicant has to pay sum of Rs.200/- in cash at sales counter in regional centre.
They can also request the prospectus via post as well. For this, they have to send a Demand Draft(DD) of Rs.250/- in favour of IGNOU,New Delhi, to Registrar (Student Registration Division), Indira Gandhi National Open College, Maidan Garhi, New Delhi-68. Please mention your Name and Phone number at the back of DD.
The students can also download the soft copy of it from university official website as well as mentioned above. The prospectus includes all the required information related to the programme and also the various forms as well. The student can cut out IGNOU BPP Admission form from it to apply for admission.
It is the common admission form for all the programmes. So, the students can use the same form to apply for admission to any programme. Please read out the instructions carefully before filling up the form. After filling up admission form, the students has to submit it to nearest regional centre along with required documents.
IGNOU BPP Study Material
The Indira Gandhi National Open University sends the BPP study material and assignment booklet to student via registered post. The books are sent to the students at their address of communication which they should have mentioned on the admission form.
It should be noted that the IGNOU BPP study material send by university is course-wise and books related to each course is dispatched in one package. In case, if the student does not receive the study material and assignments booklet on the address specified for any reason whatsoever, the University shall not be held responsible for that.
Students can also download soft copy of IGNOU Bachelor preparatory programme study material online at egyankosh.ac.in
IGNOU BPP Assignments 2019
Students can download the soft copy of latest IGNOU BPP assignments 2019 from the university official website at www.ignou.ac.in. Students have to solve these assignments and write the answers on the prescribed paper.The IGNOU BPP solved assignments are required to be submitted at the study centre concerned.
In case, if the students find any issue or discrepancy regarding the set of material and assignment sent to them by the university, they may contact Material Production & Distribution Division, IGNOU, Maidan Garhi, New Delhi-110 068.
Don't forget to subscribe with us for latest IGNOU Updates and also you can share this post on social networking sites as well to let your friends know about it.